Books on Philanthropy and Social Innovation
These books and resources are some of our favourites to help you further understand, and even inspire you, to help drive Social Innovation in your philanthropic endeavours:
It Ain't What You Give, It's the Way That You Give It: Making Charitable Donations That Get Results by Caroline Fiennes
With a strong analytical background, trained as a physicist and work at Monitor Group, Caroline clearly articulates the structure and operation of charities. By dissecting how we do good, she hopes to transform giving and "doing good" to focus on measurable impact. She also questions our deepest assumptions about charities and giving in ways that are thought provoking. A must read as measurable impact is the yardstick of transformation and social innovation.
Giving 2.0 by Laura Arrillaga-Andreessen
Published by Jossey-Bass
Based on her wide-ranging experience as a philanthropist, educator, and social innovator, Laura Arrillaga-Andreessen shares the most effective strategies she herself pilots. Through dozens of real-world stories, Giving 2.0 shows how everyone can find innovative and powerful methods to give their time, money, and expertise–whether volunteering and fundraising, leveraging technology and social media, creating social innovation, or starting a giving circle, fund, foundation, nonprofit, or advocacy group.
---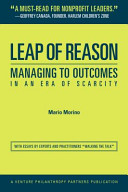 Leap of Reason – Managing to Outcomes in an Era of Scarcity by Mario Morino
Published by Venture Philanthropy Partners in Partnership with McKinsey
A former software company founder and ex-McKinsey strategist, Mario Marino has dedicated his life to the Social Sector with Venture Philanthropy Partners. A huge proponent of the notion of "Managing to Outcomes", he and a number of other writers, provide a pragmatic handbook for both Funders and Management and Board in the Social Sector. Starting from the premise that "the vast majority of nonprofits have no reliable way to know whether they're on track to deliver what they promise to those they serve," the author shows how culture and commitment are way more important than the technology-based systems to implement measurement. A strong case is made that, even in sectors most sceptical to measurement, such as education, Managing to Outcomes is fast becoming the only credible way forward.
Perhaps not surprisingly for something from McKinsey, the approaches are perhaps a bit more theoretical and tuned to larger organizations. For many local charities, with budgets less than $1 million, the ideas around culture change and managing to outcomes are great, and in time an implementation scaled to smaller charities will come.
---
Philanthrocapitalism: How the Rich Can Save the World by Matthew Bishop and Michael Green
Published by Bloomsbury
WorldCat • LibraryThing • Google Books • BookFinder
A new approach to solving social problems is needed, based on innovative partnerships between business, nonprofits and government. A group of wealthy entrepreneurs and business leaders is increasingly taking the initiative in creating these innovative new solutions. Rejecting the idea that business is about short-term profits, damn the consequences to society and the environment, these philanthrocapitalists think the winners from our economic system should give back and that business can 'do well by doing good'. In Philanthrocapitalism, Matthew Bishop and Michael Green examine this new movement and its implications.
---
Mobilizing Private Capital for Public Good by Canadian Task Force on Social Finance
Download PDF Report at SocialFinance.ca
The Task Force on Social Finance report is a 37 page document that outlines seven actions that Canada needs to undertake, in parallel, to mobilize new sources of capital, create an enabling tax and regulator environment, and build a pipeline of investment-ready social enterprises. It is a good summary of emerging public policy, much of which may well become legislation in the coming years. For example, several of the recommendations directly involve Social Finance.
---